Originally published at Huffington Post by Coleen Rowley, Former FBI Special Agent, on 3/10/10
"Burying" the Truth: Nightline Reporter Channels Bill O'Reilly and Does a Hatchet Job
In a sad commentary on the currently disintegrating state of "main stream media", I found myself ambushed on Saturday, March 6th, just ten minutes after I arrived at a conference outside Philadelphia on "9-11, the Wars and Our Broken Constitution".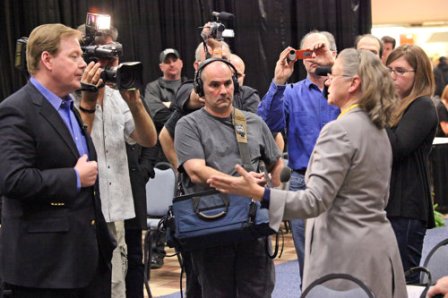 When young, smiling female producer Katie Hinman identified herself as being with ABC and asked for an interview, I had only just arrived at the conference. So although I was a little surprised that the Nightline TV crew was there, I immediately consented to an interview before anyone had a chance to warn me that the TV show was trying to concoct a connection between the conference and the mentally ill young man who had been killed a few days before while shooting at Pentagon guards.
From the very first question Mr. Bury launched, it was clear, however, that he was not interested in the truth, and that I would not fare any better than someone who consents to go on Bill O'Reilly's or Glenn Beck's show.
In the interest of journalistic ethics, let me list a few of the departures from how a decent, ethical, objective journalist would have covered the story of this conference:
1) Chris Bury and his news crew left right after interviewing me. They apparently only spent a couple hours at the conference that morning (before I arrived) and did not interview any of the sick 9-11 rescue workers or 9-11 victim family members. It turns out that while castigating the victims' quest for more facts about 9-11, they had refused to interview these folks!
2) Bury did not let me answer any of his questions, but repeatedly cut me off after I got only a couple words out. He asked totally leading questions using loaded terms with pejorative connotations like "conspiracy" in connection with the search for facts and evidence. Within a couple minutes, it was clear that Nightline's Chris Bury was only interested in furthering his pre-determined agenda and conducting a hit type interrogation just as Bill O'Reilly, Rush Limbaugh and other radio-TV talk shows are fond of doing.
3) Of course Chris Bury and his Nightline crew did not stay to hear my presentation on the terrible consequences of the lack of 9-11 truth — the series of post 9-11 mistakes — nor did they stay to hear any of the other speakers. It's been said that "truth is the first casualty of war" and there were many other visual displays and speakers, like myself, who made that point about why the truth matters. In fact when I tried to counter Bury's disparaging line of questioning, by asking why and how it came to be when Bush-Cheney launched their preemptive invasion of Iraq, that 70% of Americans mistakenly believed that Saddam was behind 9-11, Bury did not answer. Nightline edited out my questions of course about this massive deception as well as the rest of my interview in what they chose to air.
4) The Nightline crew appeared so intent on vilification but it missed my presentation on "Truth–the Dribs and Drabs" as well as other speakers' presentations on questions about inconsistencies in the NORAD time lime, the level of pre 9-11 intelligence that existed, and the actual motivations of the 9-11 hijackers (that involve the illegal Israeli settlements and Israel's handling of Palestinians instead of Bush's glib answer "they hate our freedoms").
5) If Chris Bury and his ABC producer had attended the full two days of this conference, they would have failed to find one single call for violence in any of the presentations. They would have found just the opposite. Of course that would have conflicted with Nightline's sensationalist angle, stretching to connect the young troubled Pentagon shooter to calls for further investigation of 9-11. Their outrageous proposition was that anyone who asks questions about the momentously tragic event is dangerous.
What Would Gandhi Do?
For many years, I've had this little magnet on my refrigerator with a picture of Mahatma Gandhi which says "Truth is the highest God." What that means to me is that although it's impossible to fully know the truth (as it is to know "God"), truth is a very worthy pursuit!
So maybe it wouldn't do much good but we ought to send some of these refrigerator magnets to Bill O'Reilly, Rush Limbaugh, and all those sensationalist Gonzo journalists like Chris Bury to remind them not to forsake their own integrity and their 4th estate responsibilities. The truth really does matter.
END
---
Coleen's ABC Interview…
http://www.youtube.com/watch?v=dcbGRgT-L7s http://www.youtube.com/watch?v=RELuppKY5PM
ABC refusing to speak with Bob McIlvaine…
http://www.youtube.com/watch?v=Esbjfj6VtN0
---
Privileged
by Jon Gold 3/7/2010
This past weekend, I was privileged to be the "master of ceremonies" for the Treason In America: 9/11, The Wars & Our Broken Constitution conference in historic Valley Forge, PA.
First and foremost, I would like to say thank you to the beautiful Mrs. Betsy Metz for putting this conference together. Also, a big thank you to Chris and Cindy who were instrumental as well.
On Friday Night, Betsy hired a massive truck limo (I wish I had a picture… it held 30 people), and took us all out to dinner to her restaurant Daddy Mim's in Phoenixville, PA. The food was great. Richard Gage and I talked a little bit, and maybe came to an "understanding" of sorts. I think that's actually the first time we ever talked. Nice man.
Saturday night, Polygraph Radio provided some excellent music. I don't much like rap, so my favorite was Dave Cahill. Thanks to Eric, Flip, and Justin for dinner on Saturday.
Sadly, a few of the speakers couldn't make it. Lt. Col. Anthony Shaffer was called to duty. He was nice enough to film a video that was shown at the conference. I liked his message about "common ground." It seemed to be a theme over the weekend.
9/11 First Responders Mike McCormack, and Michael Barrett couldn't make it, but thankfully, Charlie Giles did. I love you Charlie. You are such a sweet man.
Daniel Sunjata couldn't be there. A lot of people missed seeing him. I know that he was furious that he couldn't make it. I would never doubt his intent on being there.
Unfortunately, I didn't get to see everyone speak. The ones I did watch were fantastic.
We started the show by watching a VERY old version of 9/11: Press For Truth. Ray Nowosielski gave it to me by mistake. It was still great. After the film, producer for 9/11: PFT John Duffy gave a talk on a new film they are working on. I look forward to seeing this film because it is greatly based on my friend Kevin Fenton's work with regard to Tom Wilshire. It's always fun to see you Ray, and it was nice to finally meet you John. Thanks for coming.
After the film, 9/11 Family Members Manny Badillo and Bob McIlvaine spoke. Thank you Manny for making it this weekend. It's always great to see you. When it came time to introduce Bob, I nearly broke down. My eyes welled up, and it was hard to breathe. I started to think about how much of an influence he's been to me, and I started to think about how sad it was that we are still here fighting this fight for people like him and Manny, Lorie, Patty, Mindy, Kristen, Monica, Sally, etc… and a new family member I met this weekend, Dave. He lost his uncle on 9/11. I was privileged to have dinner with him last night. Bob gave the best, most detailed presentation he's ever given bar none. Thank you Bob for coming.
Then came Charlie Giles. It's so fucking sad to see him wheel up to the stage in his scooter. He gave such a good speech. Thank you for coming Charlie, and thanks for having breakfast with me. Support H.R. 847, the James Zadroga 9/11 Health & Compensation Act.
After Charlie, Heather La Mastro and Manny Badillo took the stage. Manny talked about the news regarding New Hampshire, and Heather read a beautiful poem she had written. Thanks Heather for the poem, and for coming.
Luke Rudkowski gave a great motivational speech. I have to admit. He's getting good. He also showed a few clips that were both funny and inspirational. Thanks for coming Luke.
Author of the book "Family Of Secrets" Russ Baker gave a great speech. I especially liked everything he had to say about George H. W. Bush. Thank you Russ for coming.
One of the greatest privileges of my life followed. It's not every day you get to introduce one your heroes. Someone who has become a good friend, and someone I will stand with in the coming weeks on the lawn of the Washington Memorial, Cindy Sheehan. I loved everything she has to say, and the way in which she says it. I wasn't the only one. Very few times this weekend did everyone stand up to applaud someone, but no one had any reservations after Cindy's speech. Thank you for coming Cindy, and I will see you in Washington. D.C. on March 15th.
Richard Gage gave the longest speech, and I didn't get to see all of it. He did have some technical problems unfortunately, but everyone applauded him as well. Thank you for coming Richard.
Jack Blood followed Richard. Jack is a powerful speaker and it was good to see him. Thanks for coming Jack.
William Rodriguez made a surprise visit. It's always good to see Willie. Thank you Willie for making the trip.
The first speaker this morning is someone I've known for years, but met for the first time this weekend, John Albanese. John gave one of the best speeches of the weekend I thought. Thank you for coming John, and bringing your great family.
Following John was Coleen Rowley. I could honestly listen to Coleen Rowley talk all day. She has a brilliant mind, and presents all of her information as a teacher would present it to a roomful of students. Thank you for coming Coleen.
Someone who doesn't get much attention, and someone who I think should, Michael Springmann, gave an extremely interesting talk. I think everyone should do a little research on what Michael has to say. Thanks for coming Michael.
I didn't get to see Jonathan Elinoff's entire speech, but what I did see was interesting. It's very hard to believe so many coincidences could take place. Thanks for coming Jonathan.
Dahlia Wasfi was the second person to make me cry this weekend. The footage she showed of the Fallujah soccer field turned cemetery broke my heart. It also made me angry, and has fueled me for the coming weeks with Cindy. Thank you Dahlia for coming, and thanks to Flip for recommending she speak.
ABCNews attended, and gave a few interviews to people like Coleen Rowley, Dylan Avery, Korey Rowe, Betsy Metz, and a few others. Dylan and Korey's interview, to me, was priceless. After Dylan told me what he said about who ABC should be speaking to, and how they weren't planning on speaking with Bob McIlvaine, I got mad. When Betsy told me that ABC asked to interview her, she asked me to come along. She gets nervous you know. So, I decided to bring Bob along. They absolutely refused to speak with Bob. I told them that if they weren't going to talk to Bob, then I wasn't going to talk to them, and walked away. Hopefully the film of this will be posted online soon. Oh yeah, I brought a camera man along. Thanks to Russia Today for attending.
Unfortunately, I started to get sick at the end of Sunday, and had to leave. I'm sorry that I missed out on the rest of the day, and I'm especially sorry that I didn't get to say good bye to so many good people.
I want to thank everyone who attended. I think everyone took part in a little history this weekend.
When Betsy told me that I was going to be "Master Of Ceremonies," I laughed. Now, I consider it to have been one of the greatest privileges of my life.
Thank you Betsy.
---
ABC News Attempts to Smear 9/11 Truth Conference
At the recent 9/11 Truth Conference "Treason in America: 911, the Wars & Our Broken Constitution" ABC News showed up to cover the event. Their mission was to smear 9/11 truth by association with the recent news of the shooter John Bedell. In an ABC interview with Korey Rowe and Dylan Avery, filmmakers of "9/11 Loose Change" Korey and Dylan take the ABC correspondent to task for the Media's failures and smears.
Worth noting is that Cindy Sheehan was an invited speaker, the famous "Peace Mom" who epitomizes the spirit of non-violence and was there in solidarity with the Truth Seekers was given a standing ovation as she outlined the many 9/11 events that occur each and every day as the wars take their deadly toll.
See more video and audio clips here… http://boston911truth.org/tia.php
---
TV Media Info Wars Strikes At Valley Forge '9/11 Truth' Conference
by Nate GrahamMarch 9th, 2010 OnlyinPhiladelphia.com
ABC News Nightline's "INSIDE A 9/11 TRUTHER CONVENTION"
RT's "9/11 TRUTHERS ATTEND TREASON IN AMERICA"
VALLEY FORGE, USA–(OiP)–
Perhaps, there truly is no such thing as 'objective journalism' anymore– TV news media organizations have their own slant on every televised story. Unbeknownst to myself at the time, two separate TV news organizations, Russia Today (RT) and ABC News, arrived to cover the same 9/11 Truth conference here in suburban Philadelphia, but with different agendas.
After watching both clips numerous times, it seems one network was genuinely there to offer balanced coverage on the 9/11 Truther conference, while the other arrived conveniently after this past weekend when an alleged 9/11 Truther named John Patrick Bidell opened fire at the Pentagon, suddenly deeming the conference press-worthy. We'll let you connect the dots…
ABC News Nightline's segment was the first televised news story I had witnessed on the 9/11 Truth meet just before midnight. I had only begun watching their coverage at the convention in Valley Forge as soon as I heard the words "Nine-Eleven" uttered by Nightline anchorwoman, Cynthia McFadden. Later that evening, I saw RT America's take on the same 9/11 Truth conference, but couldn't help but notice they were profoundly different. View Larger Map
This weekend at the Valley Forge Convention Center, minutes away from Valley Forge National Historic Park, a two-day conference was held called 'Treason in America' organized by Betsy Orr Metz, which brought in hundreds of "9/11 Truthers", as they're called, from all over the nation. ABC News showed up to report on the 9/11 Truther conference with reporter Chris Bury and producer Katie Hinman for a TV segment on their nightly national news program, Nightline. So did news channel RT America, which broadcasts from studios in Washington, DC, who sent their own Correspondent, Marina Portnaya, to cover the conference.
"Our presence was met, as you will see in tonight's segment, with some resistance. For obvious reasons, the "truther" movement has clashed with many in the mainstream media," wrote the ABC Nightline 'Where We Fit' blog, although the 'obvious reasons' were never explained.
RT acknowledged ABC News's presence at the conference, "The consensus among all those who attended is that the mainstream media has essentially ignored any questions for about 8 1/2 years, but ironically as this conference got under way, one news channel did show up–take a look," said RT correspondent Marina Portnaya, introducing her own clip from the Valley Forge Convention Center.
When ABC News focussed their attention on the 'truthers' themselves, ABC correspondent Chris Bury sat down with a couple of filmmakers of the Loose Change documentaries, as the RT cam took notice, focusing in on ABC's interview.
"What do you think about the fact that someone like John Patrick Bidell, who shares some of these beliefs, and tries walking in the Pentagon loaded with ammunition and a shotgun?" Bury asked Filmmaker Dylan Avery.
"Well, first of all, we don't know exactly what he believed. We know that the news said that he might have been a "Truther", but that's it. That's all we know. I don't support violence." responded Avery, the Director of 'Loose Change'.
His fellow 'Loose Change' film producer, Korey Rowe, then accused the mainstream news reporter, "You're trying to already equate us with this man and trying to say that the 9/11 Truth movement is a militia, gun-toting, anti-government conspiracy theory. It couldn't be anything farther from the truth."
As seen on ABC News Nightline's late-night segment, Chris Bury denounced the claims made in the 9/11 Truth documentary "gospel", as he referred to it.
"Their film pedals some largely discredited arguments claiming that jet fuel was not hot enough to melt the steel structures, that the buildings pancaked down in controlled explosions, that the hijacker of American Airliners Flight 77 lacked sufficient training to fly the plane. All of it pointing ominously to a shadowy, government conspiracy," ABC's Bury said in the hit-piece.
"The truthers not only distrust the government, many also believe the mainstream media, including Nightline, are somehow complicit. We were followed by cameras wherever we went. And the makers of 'Loose Change' clearly didn't appreciate our questions."
"Anything that we try to put out, you guys just simply just knock us down. We already know what the piece is going to do," Loose Change Producer Korey Rowe stated on camera.
"We already know what you guys are going to do," added Director Avery, aside his fellow producer. "Just by the questions you asked us, it's very clear what your agenda is."
The same truther interviewees then spoke with the RT Correspondent Marina Portnaya about ABC Nightline's hidden agenda,"The reason they were here was because of the Pentagon shooter. You know, I think it's funny that we scream from the rooftops for years about needing justice and accountability and we never get coverage, but the second someone decides to pick up a gun and go into the Pentagon metrostation, all of a sudden we're press worthy," said Avery about ABC News.
Russia Today took this opportunity to cover the irony of the mainstream news channels not-so-welcome company at the event:
"Marina, let's talk about that exchange between that ABC News Correspondent and the filmmakers. It looked a little tense." RT anchorlady Kristine Frazao asked in the aired piece.
RT's Marina Portnaya
"It was tense, indeed. The filmmakers of the 9/11 Loose Change documentaries were pretty much offended they told me by the questions that the ABC News Correspondent was posing. They told me that their documentary has been out for nearly 5-years, and yet a few days after an alleged 9/11 truther opens fire near the Pentagon, ABC News is interested in speaking with them." Marina Portnaya informed from the New York RT studio.
"They told me that based on his questions, that based on the ways he was posing them, that he was trying to equate the 9/11 truth movement with essentially a radical, Pentagon shooter or somebody who may not be mentally stable, trying to discredit the movement."
ABC Correspondent Chris Bury who interviewed several other attendees asked other questions that made it on the air such as, "Do you consider yourself a conspiracy theorist?", "A lot of the people here believe that the government helped murder innocent American's, do you share their belief, the belief of the people at this convention?", and most notably, "A lot of people are going to look at this and wonder, are you part of of a, kind of a lunatic fringe?"
"What these young guys actually said to the correspondent is 'Why don't you go interview the family members here that want a new investigation? The engineers. The FBI Whistle-Blowers.' They pointed out to him that the 9/11 commission didn't have an engineer on it, did not have a physicist, no family member, no first responder. They gave him a list of grievances that they had, but they did not think that the correspondent was listening to them. I did ask the the ABC Correspondent [Chris Bury] if I could interview him on camera, but he declined," Portnaya reported.
So, while the pieces of both news stories differentiated, it is apparent which ones the 9/11 Truthers appreciate more:
"Here's some actual balanced coverage of the conference to pre-empt ABC. Many thanks to Russia Today for continuing to do their thing," wrote Loose Change Director Dylan Avery on his Facebook page, posting a YouTube link of RT's coverage at Valley Forge Convention Center.
There is clearly an information war at stake, and we should choose what we watch and listen to very closely, or we might just be spoon-fed misguiding information. As for which of these networks you should continue watching– the choice is yours.
**(OiP)– UPDATE 3/11/10**
RT airs a segment LIVE from Washington D.C. with Loose Change filmmaker Dylan Avery:
"Now ABC is allegedly making the 9/11 truthers look like a group headed toward the insane asylum."-RT America video description
Since our analysis has been posted, a raw, unedited version of ABC reporter Chris Bury's interview with the Loose Change creators has come out on the internet, and you can be the judge whether the questions were biased or not.
---
Cindy Sheehan at Valley Forge
From Mark McKertich
Cindy Sheehan recently spoke at the Treason in America conference in Valley Forge, PA (March 6, 2010). Paul Payne and I were honored to be there to capture the presentations. Videos of other speakers will be posted in the coming days and weeks.
Please spread the word and let's help Cindy with her/our "Peace of the Action."
Below are the video links
FULL PRESENTATION
YOUTUBE (4 PARTS)
http://www.youtube.com/watch?v=sQqRbB3VkUg
http://www.youtube.com/watch?v=GK0RGMt6hcA
http://www.youtube.com/watch?v=GQz9Z0iBDUo
http://www.youtube.com/watch?v=HdnazXW5dUE
---
Russ Baker's Conference Presentation Now Online
Watch the full presentation at Blip.tv here(36:41)
Bob McIlvaine's presentation can be seen here
Both from Chronos Films & Media